Ateez 1st Anniversary Acrylic Stand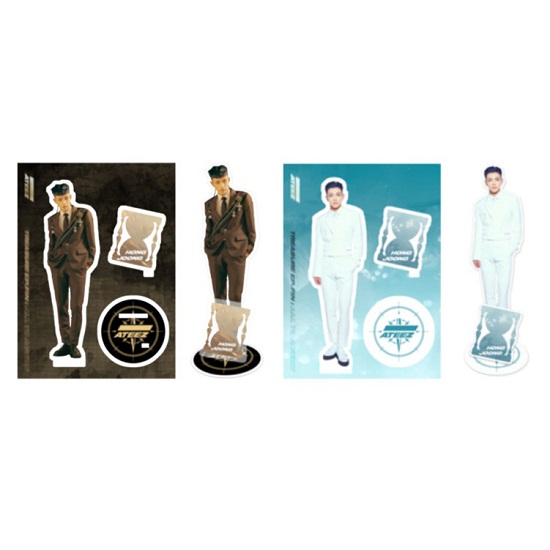 | | |
| --- | --- |
| Price | $30.00 |
| Type | Official |
Available From Ebay ▼
Check It Out
This Ateez acrylic stand comes from the collection of merchandise prepared for the first anniversary of the group's debut. Ateez debuted under KQ Entertainment on October 24, 2018 with song Pirate King and their extended play Treasure EP.1: All to Zero. This was the first album of the Treasure series that concluded with the release of Treasure EP.Fin: All to Action. The whole series was a big success. The group also commemorated the debut anniversary with a special event titled Moon River that was broadcasted through their official VLive channel. It is worth noting that only 150 lucky fans had an opportunity to attend the event.
If you want to own something officially released by the group this Ateez acrylic stand will be perfect for you. It is available in two variants - version 1 and 2, and features the silhouettes of all members including Seonghwa, San, Yeosang, Yunho, Hongjoong, Wooyoung, Mingi and Jongho. Each piece comes with a round stand with a picture of a compass and the logo of Ateez, and a special acrylic panel in a shape of an hourglass with the name of a chosen member. The first variant depicts the boys wearing black attires while the second shows them in all white suits. The size of the Ateez acrylic stand is 110 x 150 mm and it was manufactured in South Korea by Play Company.

Additionally other collectibles were prepared for the anniversary including a black airpod case made of TPU with a picture of a compass on front, a similar item that is a case made of PC for your Galaxy Buds (in a slightly bigger size than the one for the airpods), the official black hoodie made of cotton featuring the compass logo on front and a map with the word "Wonderland" on the back, and finally a set of 5 luggage travel stickers on one sheet that measures 260 x 220 mm. As you can see you can get something for you if you're a big fan of Ateez. All these goods are - as I mentioned before - manufactured and distributed by Play Company Corp. and are licensed by KQ Entertainment.
You can get this Ateez acrylic stand from a seller based in South Korea on Ebay. It costs only $27.90 so it is a fair price for such a nice collectible. All members are currently available so you should definitely grab a piece as soon as possible.
Available From Ebay ▼
Check It Out