Ateez Cheering Slogan Towel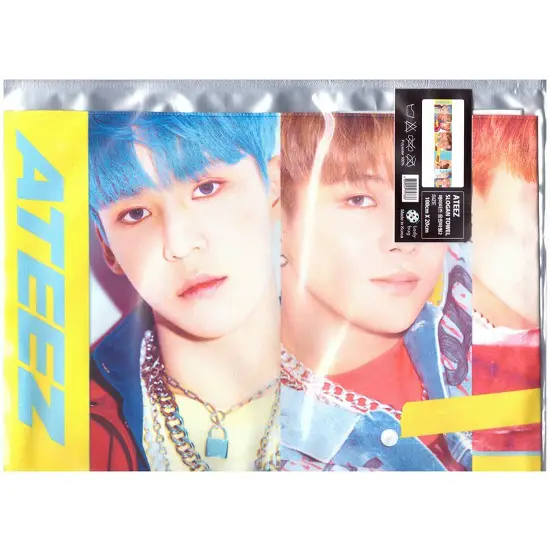 | | |
| --- | --- |
| Price | $26.34 |
| Type | Unofficial |
Available From Ebay ▼
Check It Out
This unofficial Ateez slogan towel was professionally designed and manufactured by a South Korean company Ladybug. The company is known for their transparent photocards they create for KPop groups such as Bangtan Boys, IZ*ONE, Monsta X, Red Velvet, Big Bang, Seventeen, X1 and Twice. If you check our KPop photocards category you will find the Ateez set that's ready to find its new owner. It will be a great addition to collection of any of the group's fans. The size of the slogan towel is 1000 x 200 mm. It is one of most typical sizes which is present in many collections of merchandise of other artists. Although we can find slogans that measure 590 x 200 mm (VAV's 2018 Meet & Greet in Europe: Spotlight), 600 x 200 mm (1THE9 official slogan), 630 x 190 mm (NU'EST 2013 Sleep Talking album goods), 700 x 200 mm (Fromis_9 To. Heart showcase), 800 x 200 mm (Pentagon's debut showcase The Museum Of Pentagon).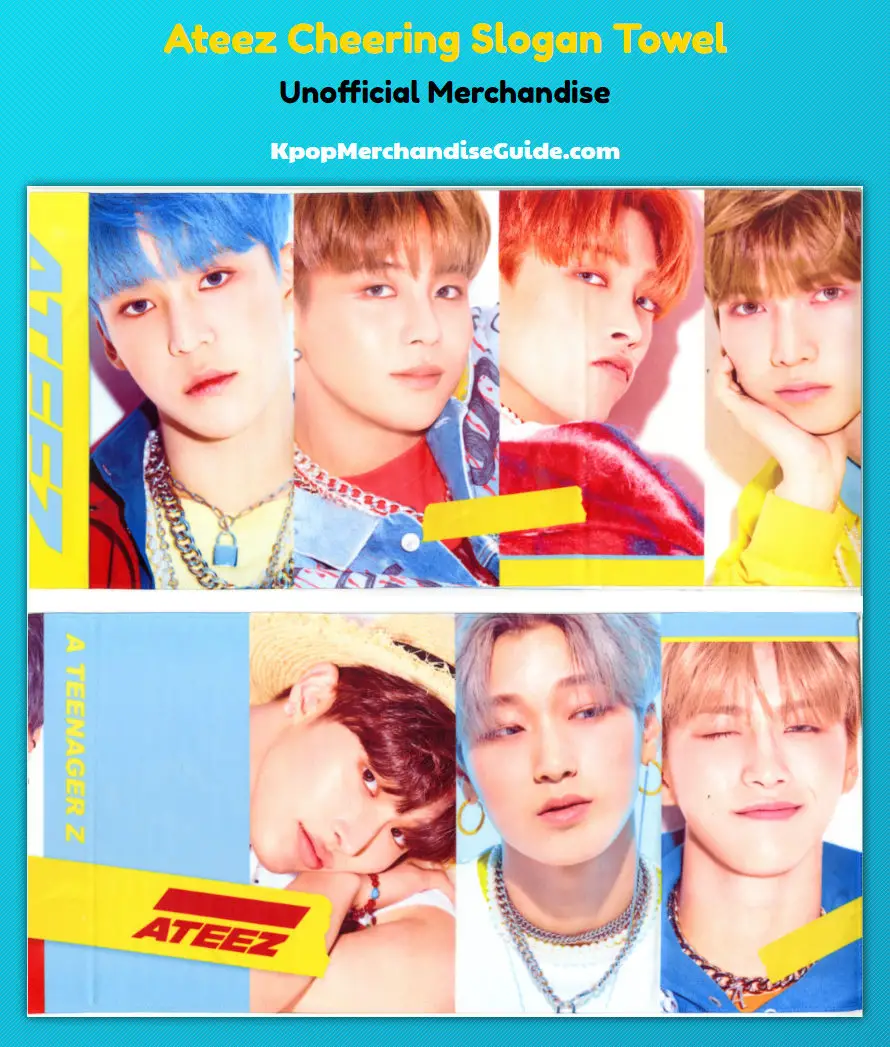 The Ateez slogan features the photos of all 8 members - Yunho, Yeosang, Hongjoong, Wooyoung, Seonghwa, Mingi, San and Jongho and the logo of the group with the words "A TEEnager Z". The item is made of 100% polyester and comes in a transparent plastic package with a tag containing the washing information symbols, the logo of Ladybug and a barcode. If you like the design you can also get the other from the same seller which is in more darker tones (since this one is based on a bright colors). The Ateez slogan towel costs only $17.00 for a piece. It is a fair price when we take into account that it is one of few high quality Ateez collectible currently available. You can of course try to find the officially released items but it will be extremely difficult to achieve.
The merchandise of Ateez are not easy to get. The group hasn't released many so far. A small selection of three items was available at the showcase prepared for the premiere of their second extended play titled Treasure Ep. 2 - Zero To One. The event was held at the YES24 Live Hall on January 16, 2019. At a special booth the fans could get an acrylic light stick with a round transparent head, a set of 9 mini posters (variant A or B) and a key ring (9 versions). Another collection was prepared for The Expedition Tour In USA where Ateez performed in Los Angeles, Dallas, Chicago, Atlanta and New York. The attendees could get one or more of six different collectibles: a T-shirt (black or white version), a black hoodie, a baseball cap, a wristband, a tote bag and a set of stickers on one sheet. Unfortunately there are also not many unofficial items related to Ateez. All we have to do is to browse the Internet and try to find something we can add to our collection of KPop merch.
Available From Ebay ▼
Check It Out