The Boyz Skoolooks ID Photo Photocards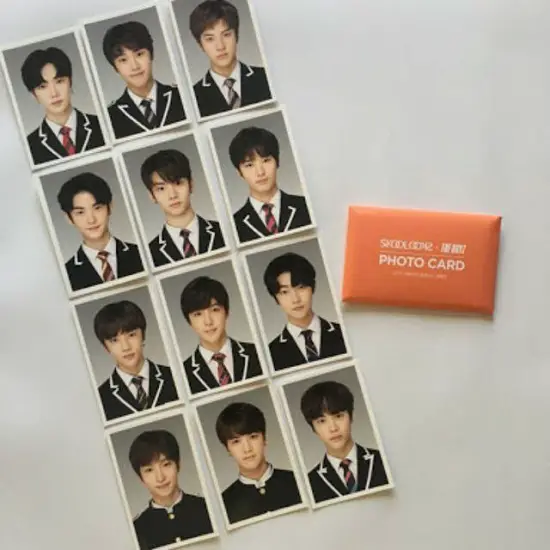 | | |
| --- | --- |
| Price | $69.99 |
| Type | Official |
Available From Ebay ▼
Check It Out
This is a promotional collectible which is a fruit of a collaboration between The Boyz and Skoolooks. Skoolooks is a company that creates school uniforms. They decided to join forces with The Boyz and make them their models for their products. That was of course a great choice to made the members their ambassadors. The set you're looking at right now was released to promote the collaboration and gave the fans something commemorative to own. In the package you will find 12 different cards that look like a typical ID photos. All members are here included - Kevin, Hyunjae, Younghoon, Jacob, Juyeon, Sangyeon, Q, New, Sunwoo, Eric, Hwall and Ju Haknyeon. On the back you will spot the words The Boyz X Skoolooks and the name of one particular member. Each photocard measures 85 x 55 mm so it is the exactly the same size of a typical sheet you can get in almost every KPop album nowadays. The set comes in an orange cardboard package. The product was made in South Korea. It is worth noting that a similar collectible was release for IZ*ONE which are also the models for the company.
If you like this set and you wish to get more official photocards of The Boyz you can try the only other the group released so far. The pack of cards I'm talking about is the one from One & Only event. It took place at the Grand Peace Palace of the Kyunghee University in Seoul on November 29, 2018. It served a double purpose since it was organized to commemorate the first anniversary of the debut which was the year before on December 6, 2017 and also as a showcase to support the newest album The Only. It was the third extended play of The Boyz which came out on November 29, 2018 and consists of 6 songs including Breath to Breath, Only One, Lucid Dream, 36.5° (Melting Heart), 4Ever and the title track No Air for which a music video was produce. The set of cards prepared for the event came in a black package and consisted of 19 different sheets including 1 group, 6 unit (Kevin plus Sangyeon, Hyunjae plus Hwall, Juhaknyeon plus Sunwoo, New plus Juyeon, Q plus Younghoon and Jacob plus Eric) and 12 single member sheets. It was one of 5 items available at the showcase. The other were a set of three masking tape rolls in different colors, a wappen which was designed by one of the member, Kevin, a black strap keyring which came with a mini charm and the official lightstick of The Boyz with a round head and black handle.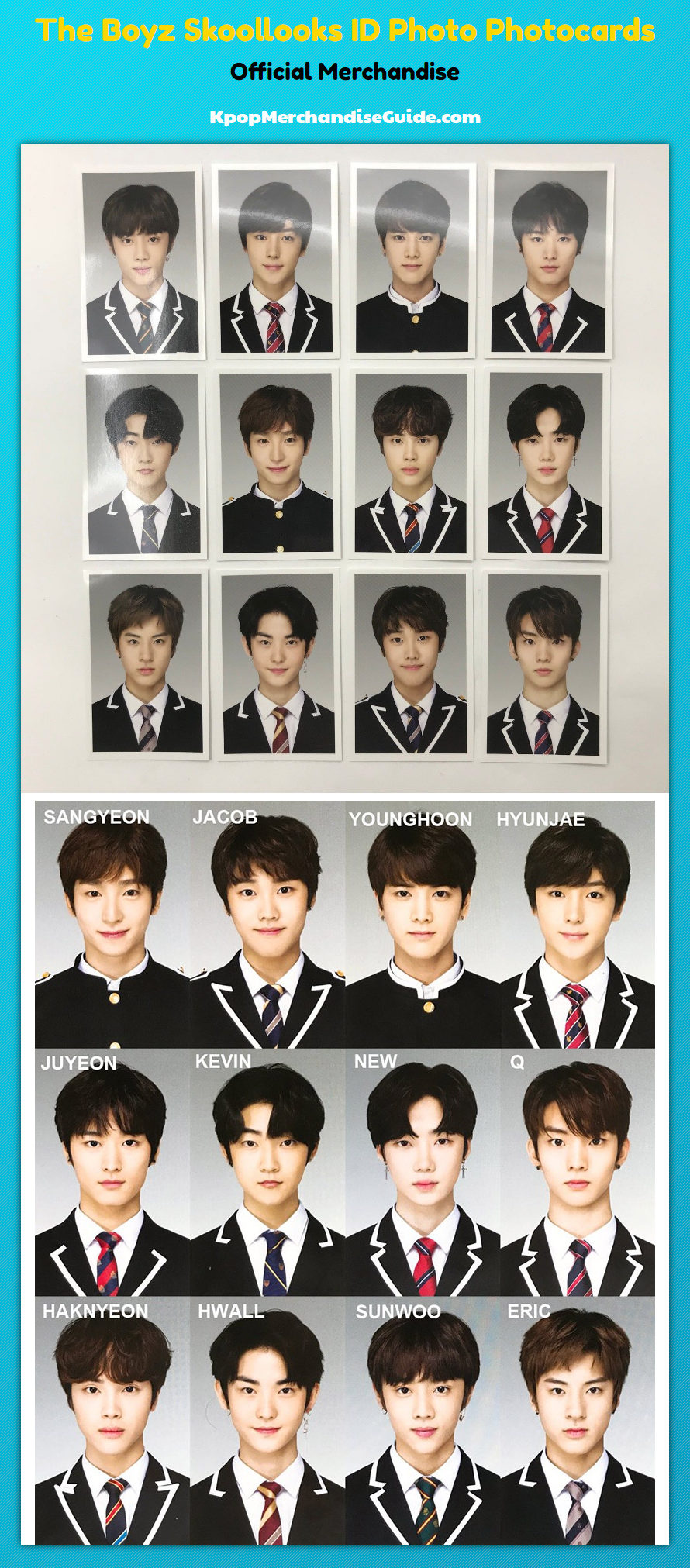 If you're interested in this ID photo set you can try to get similar official products of other KPop groups. For example a while ago Loona released their own ID cards for their debut concert Loonabirth which took place at the Olympic Hall on August 19, 2018. They feature a photo of each member of the girl group and are smaller than these, they measure 35 x 45 mm. It was followed by another set from the second concert titled Loonaverse that was held over two days on February 16-17, 2019. It was also composed of 12 sheets sized 35 x 45 mm. As you can see you can definitely get other similar products if you want to.
And if you like this official item from SKOOLOOKS you can get it for only $19.99 which is a very affordable price.
Available From Ebay ▼
Check It Out