Mamamoo Purple Lomo Photocards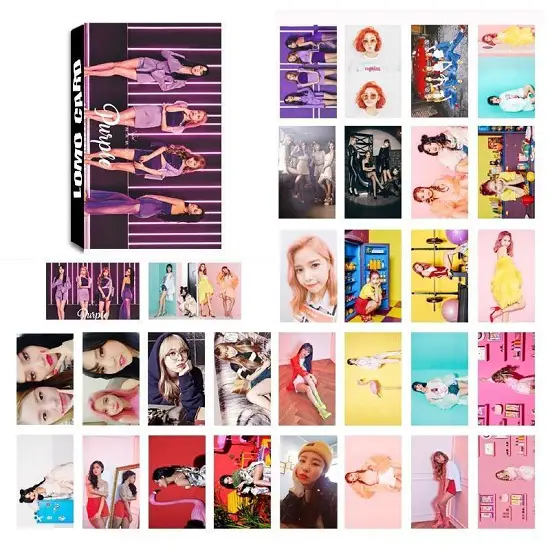 | | |
| --- | --- |
| Price | $2.98 |
| Type | Unofficial |
Available From Ebay ▼
Check It Out
This set of Mamamoo Purple photocards is related to the fifth mini album of Mamamoo titled Purple. The extended play was released by RBW - the company of the group - on June 22, 2017 and was distributed by CJ E&M Music. It was preceded by the EP Memory from 2016 and followed by Yellow Flower in 2018. All of them were a big success and sold pretty well. It consists of 5 songs including Yes I Am (the title track), Finally, Love & Hate, Aze Gag and Da Ra Da. Two versions were available - version A with a purple cover and B with green. A special Asian variant was released in Taiwan and contained the remastered versions of the group's hit songs Mr. Ambiguous, Piano Man, Um Oh Ah Yeh, You're the Best, Taller Than You, I Miss You, Décalcomanie and New York. It came with a special DVD with various music videos of Mamamoo.
The set of Mamamoo Purple photocards consists of 30 cards that measure 88 x 56 mm (3.5 x 2.25 inch) in a cardboard box. Each sheet features a photo of one or more members including Solar, Moonbyul, Hwasa and Wheein. In the box you will find 6 whole group sheets, 4 unit sheets (with two members on a card) and 20 single member cards. This is a fan made but a high quality product that will certainly find a place among your other collectibles regardless if they are official or unofficial. And if you would still prefer to get the official photocards from RBW you can always try to hunt them online.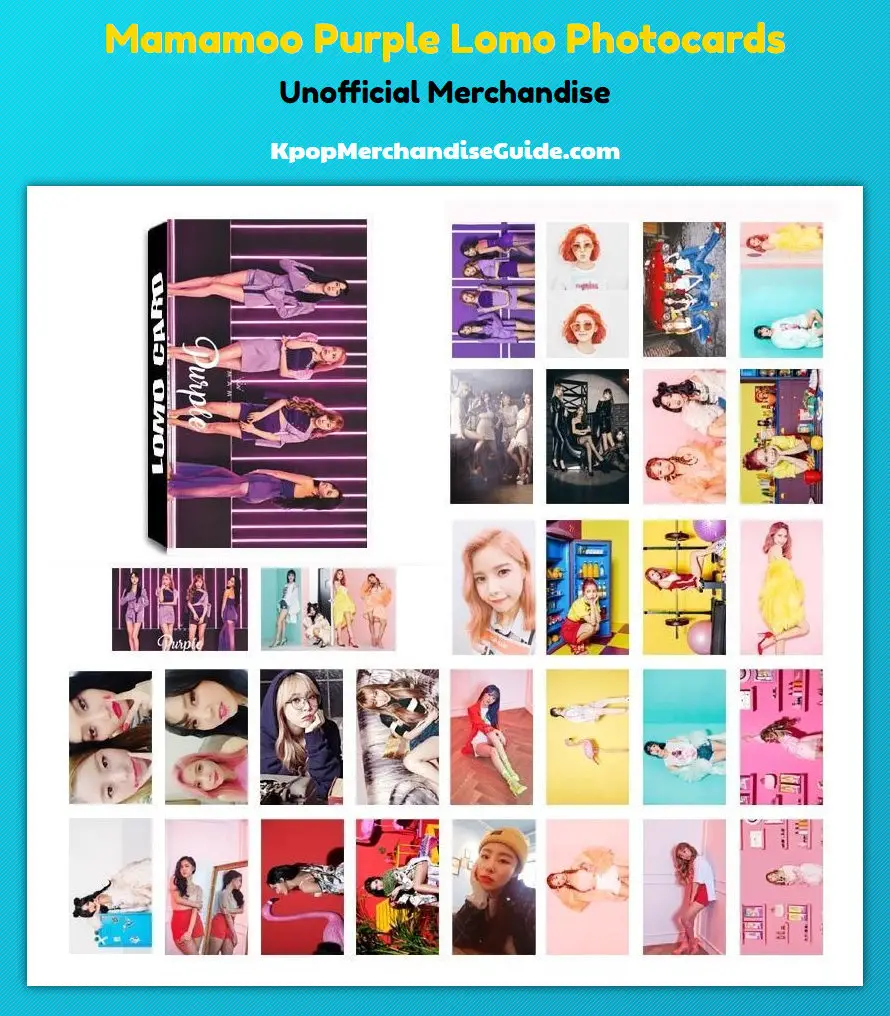 A very interesting set of playing cards was released for the 2016 Concert Moosical that took place in August at the Olympic Hall. The deck consisted of 54 sheets where the aces, kings, queens and jokers were substituted for a photos featuring each member. The size of each one is 88 x 56 mm - the same as the Purple photocards. In the same collection of goods we could find a Mamamoo logo ring which came with a set of 4 special photocards of a standard size of 85 x 55 mm. All content was carefully packaged in an elegant tin case. The second version of the ring was available at the 2017 Concert Moosical Curtain Call and a different set of 4 cards was added as a bonus. As you can see there was not many these types of merch released and they will be probably impossible to find. At least for a reasonable price. Will it be worth it? You will decide when you by some kind of a miracle stumble upon one of these sets.
You can get this Mamamoo Purple photocards from a KPop merchandise seller on Ebay. It costs only $2.96 which is a very affordable price for every fan. There are also plenty of a very similar lomo sets related to other KPop groups and soloists. And if you're interested in this product you can check out a selection of transparent cards made of PVC or a collection of message cards which are available in many variants.
Available From Ebay ▼
Check It Out