Mamamoo Logo Hoodie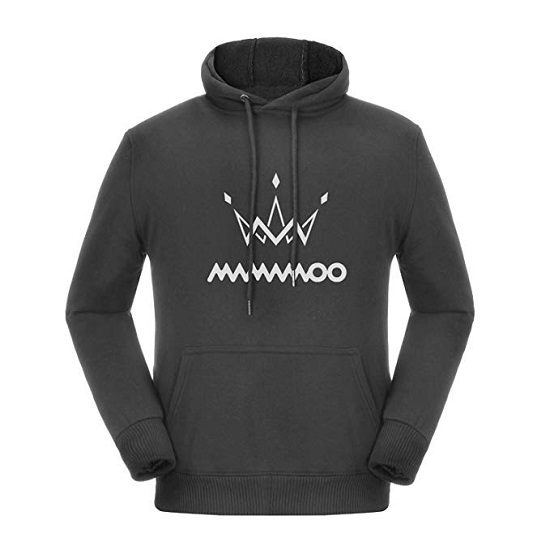 | | |
| --- | --- |
| Price | $23.99 |
| Type | Unofficial |
Available from Amazon ▼
Check It Out
If you are a fan of the group you will probably be interested in this Mamamoo hoodie. It comes in four different variants. The first one features the classic logo of the girl band with its name on front and the name of a chosen by you member with the last two digits of a birth date on the back. The other variants feature the logos of three albums from the Four Seasons Four Colors project including Yellow Flower, BLUE;S and White Wind. The hoodie is made of a very comfortable material composed of cotton and lycra. The hoodie comes in three different colors: black, grey and white. It is also available in six sizes so you can be sure you will get the size that will make a perfect fit. As a bonus you will get a round pin button with the logo of one of the albums of Mamamoo.
The sizes are S (chest: 37 inch, shoulder: 16.54 inch, length: 22.83 inch), M (chest: 39.37 inch, shoulder: 17.72 inch, length: 25.59 inch), L (chest: 41.73 inch, shoulder: 18.9 inch, length: 26.38 inch), XL (chest: 44.1 inch, shoulder: 20.1 inch, length: 27.56 inch), 2XL (chest: 46.46 inch, shoulder: 21.26 inch, length: 28.74 inch), 3XL (chest: 47.24 inch, shoulder: 22.05 inch, length: 29.53 inch). You should probably think about getting a size bigger than what you're used to since these are Asian measurements. Maybe even two if you like baggy things.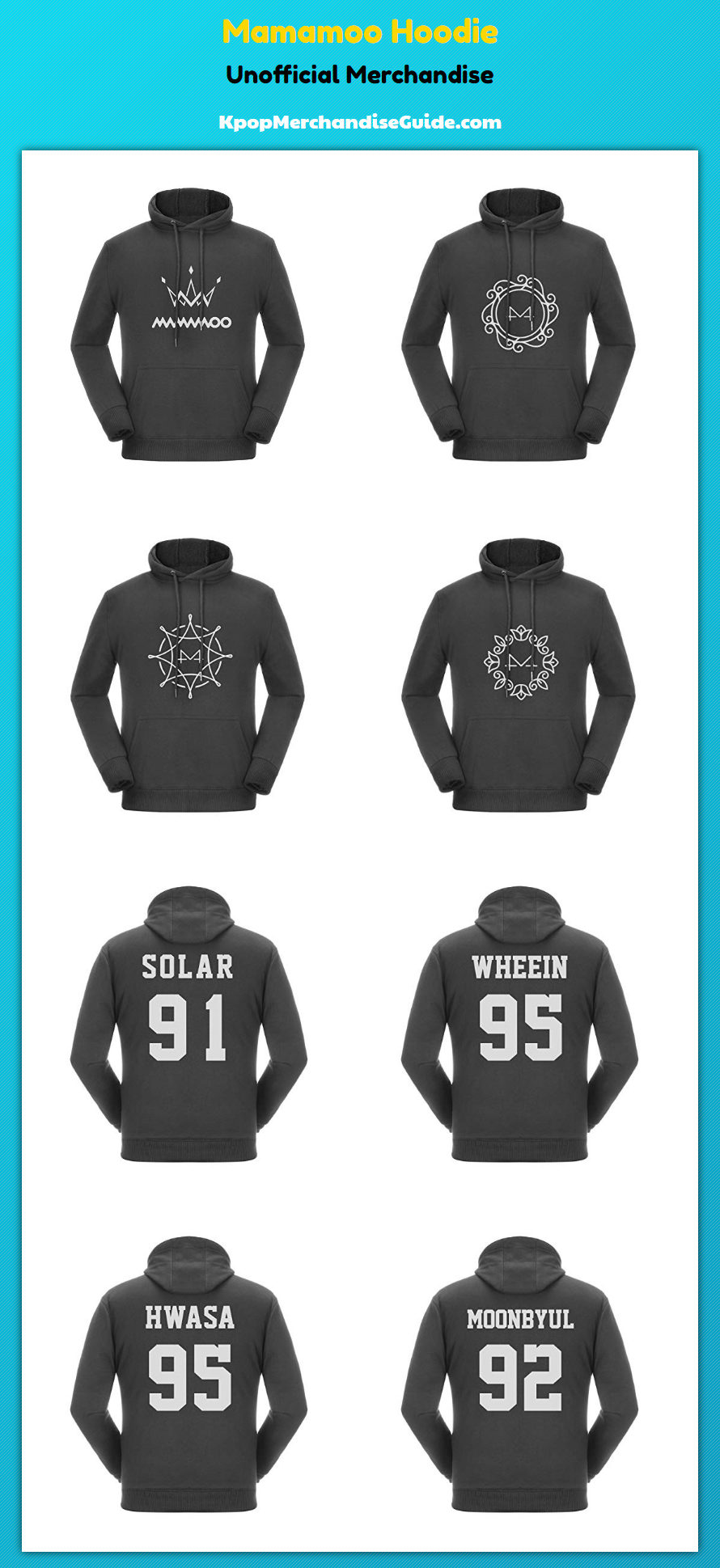 This is unofficial fan made item. If you prefer an original Mamamoo hoodie you can try to get for example a black one that was officially released by RBW for the group's 2017 Concert Moosical Curtain Call. It was available in two sizes: M and L. The concert was held at the Olympic Hall in Seoul over three days on March 3-5, 2017 and gathered the audience of 10000 people. Along with the Mamamoo hoodie nine other collectibles were prepared for the event including the second version of the official lightstick of Mamamoo, a commemorating slogan, the second version of the official logo ring with 4 photocards, a black ballcap with a phrase "I love u too", an earphones, a set of 7 posters of a size of 364 x 515 mm, a set of 10 postcards, a free size black mask and a set of badges representing the logos of various Mamamoo's albums including Mr. Ambiguos, Uhm Oh Ah Yeah, Piano Man, Memory and Melting.
There are also other official pieces of apparel beside the Mamamoo hoodie you can get if you're lucky enough. A yellow sweatshirt was released in conjunction with the release of the Yellow Flower mini album. A special navy knit vest was available at the 2017 Mamamoo Fanmeeting that took place at the Hwajeong Gymnasium in Seoul on October 28, 2017. The official T-shirts was also included in the collection of goods prepared for the events such as 2017 Concert Moosical Curtain Call In Busan and 2018 Concert 4season S/S.
If you're interested in this Mamamoo hoodie you can get it for a reasonable price of $23.99 on Amazon. Although it is fan made it is a high quality item that will definitely please you.
Available from Amazon ▼
Check It Out