Eric Nam Honestly T-shirt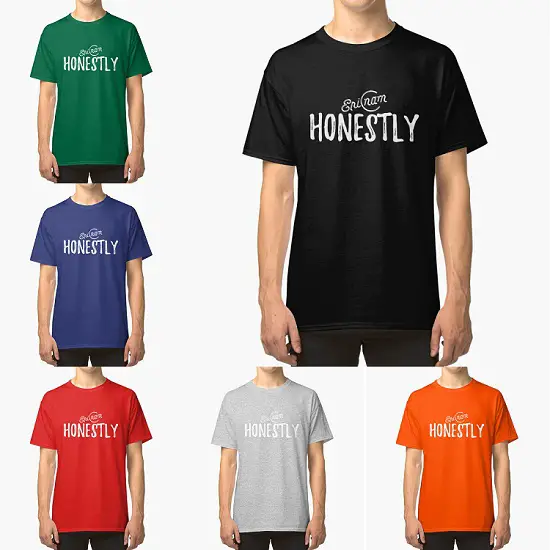 The piece of fashion you're currently looking at is the Eric Nam T-shirt. It features a modified logo from the hoodie I've posted before. On front of the T-shirt you will find the logo of Eric and the title of his album Honestly below. Honestly is the third extended play of the soloist that came out on April 11, 2018. It contains 6 tracks including the lead song of the same name (along with the acoustic version that's present on the CD version only). The other songs are Potion (featuring Woodie Gochild), This Is Not a Love Song, Lose You and Don't Call Me. The Eric Nam T-shirt comes in many different colors so you can choose the one that will match your style. Depending on the site you'll be ordering from you can get it in black, grey, denim, navy, blue, light blue, crème, red, dark red, dark grey, green, army, gold, purple, brown and orange (Redbubble) and black, light blue, light steel, deep red and deep royal (Zazzle). The item will be perfect if you want to support the artist during his concert or any other event he would participate in. And remember that beside this Eric Nam T-shirt you can additionally get the hoodie with a similar design. Both will certainly satisfy you.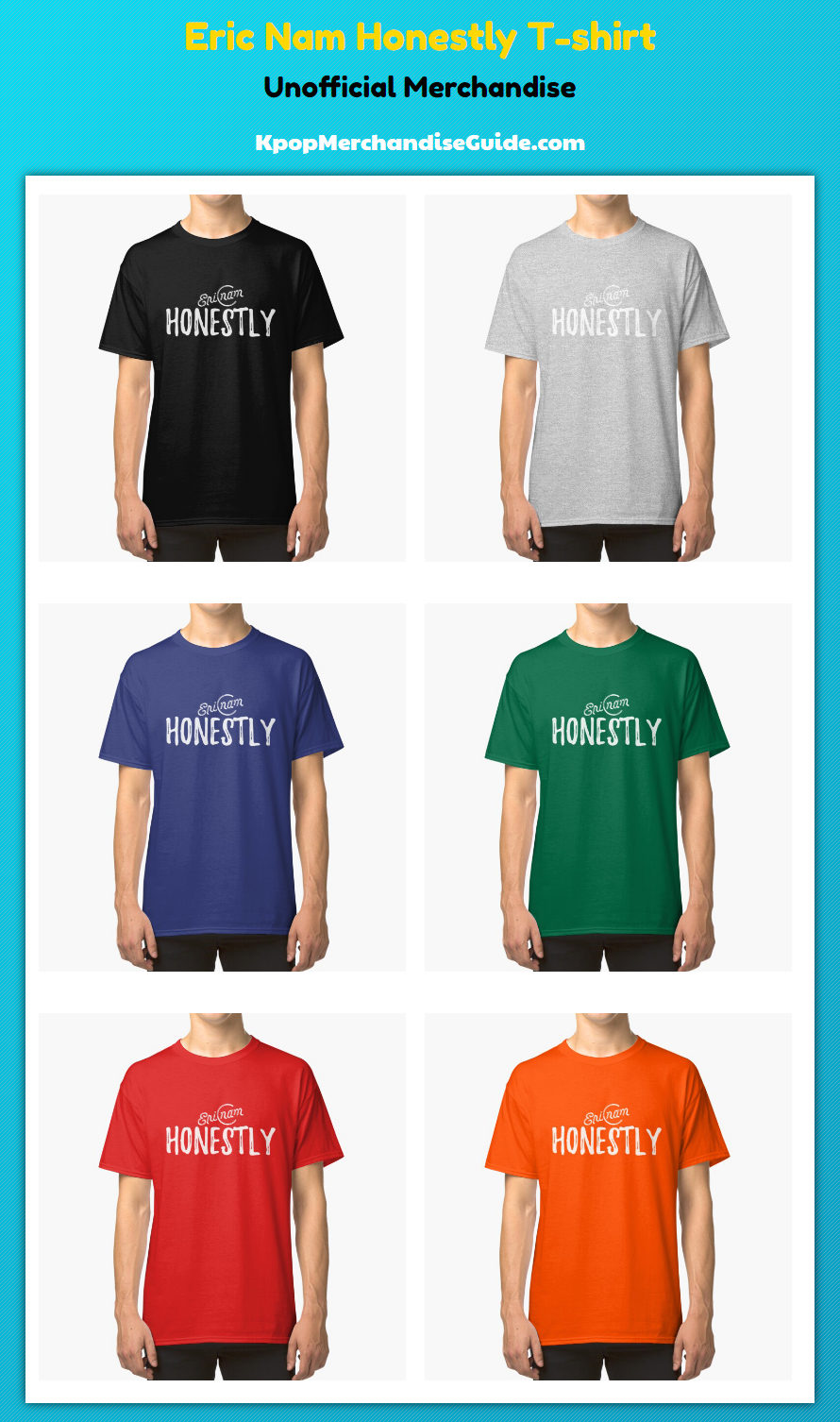 The T-shirt is available in sizes from S to 3XL on both services. The measurements differ slightly on both so please carefully check the charts. For Zazzle please refer to this info: S (chest: 33-34 inch, waist: 25-26 inch, width: 18 inch, length: 25 inch), M (chest: 35-36 inch, waist: 27-28 inch, width: 20 inch, length: 26 inch), L (chest: 37-39 inch, waist: 29-31 inch, width: 22 inch, length: 27.5 inch), XL (chest: 40-41.5 inch, waist: 32-34.5 inch, width: 24 inch, length: 29 inch), 2XL (chest: 42-44 inch, waist: 35-38 inch, width: 26 inch, length: 30 inch), 3XL (chest: 45-46 inch, waist: 39-42 inch, width: 28 inch, length: 31 inch). And if you want to purchase it from Redbubble read this: S (chest: 36 inch, length: 28 inch), M (chest: 40 inch, length: 29 inch), L (chest: 44 inch, length: 30 inch), XL (chest: 48 inch, length: 31 inch), 2XL (chest: 52 inch, length: 32 inch), 3XL (chest: 56 inch, length: 33 inch).
There are not many official Eric Nam T-shirts out there. This of course is a fan made item. But if you prefer something released officially you can try to get a white T-shirt that was a part of collection prepared in conjunction with the release of the single Runaway. The item had the title of the single on front and a photo of Eric Nam on the back. You could get it in one color - white, and five sizes including S, M, L, XL, 2XL. Other collectibles in this selection were a black hoodie, a white crewneck, a black hat, two popsockets (white and black) and two different pairs of socks.
And if you like this Eric Nam T-shirt you can always get it from the sites I mentioned for a price between $20.19 and $25.70. You will definitely be pleased with the purchase.
Available from Redbubble ▼
Check It Out
Or Zazzle ▼
Check It Out