KPop Fashion
KPop fashion is one of the most sought-after collectibles. Among the most popular items are hoodies, t-shirts, shoes and accessories such as headbands and wristbands. At least one piece of fashion is present in every collection of merchandise prepared for a special occasion including concerts, showcases and fan meetings.
These official products are often of a high quality and are available in different sizes, colors and designs showcasing the logos of the group and incorporating the title of a particular event, and bringing the new trends to life. They will work for both female and male fans, and for different seasons including Winter and Spring.
Sometimes the whole collections of KPop fashion are available for the fans. On the other hand there are plenty of fan-made apparel you can get on various e-commerce sites all around the Internet. Let's get through the most interesting items released by the KPop artists so far. They are rather a large collections that will definitely interest you.
The first example are the outfits prepared in 2018 for the extension of the Love Yourself tour titled Speak Yourself, which began with the concert in the United states, at the Rose Bowl in Pasadena. The selection of KPop fashion included a shopping bag with the logo of the extension on the front, 4 beautiful T-shirts with the same logo (version 1 (black or white), version 2 and version 3), a pullover logo hoodies, 2 zip-up logo hoodies, a grey hoodie, 2 T-shirts with the words "BTS beyond the scene", 2 long sleeve T-shirts with the same graphic, and lastly 2 other variants of T-shirt. All pieces of KPop fashion in this collection were available in two sizes - M and L.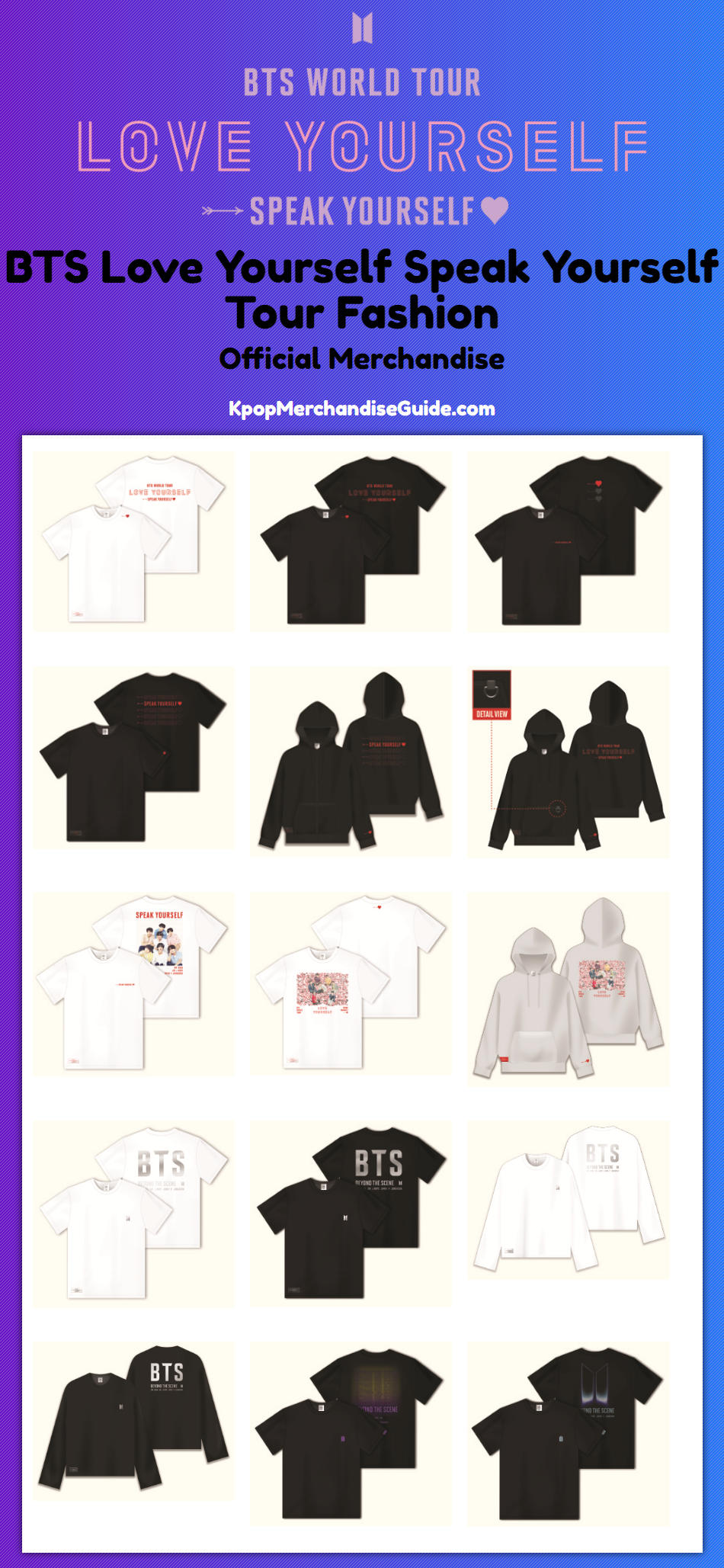 Additionally an exclusive line of fashion was released for the fans from regions of USA, United Kingdom and European Union. This is one of the few examples of collections of merchandise consisting of only outfits. The selection is composed of 10 different types of T-shirt, 2 types of long sleeve T-shirt, 2 different hoodies - the regular and cropped one, and a pair of jogger pants.
The second example are items related to Enhypen. This is another collection composed of only KPop fashion, and does not include any other products. It was released on December 10, 2020 to promote the group's first extended play titled Border: Day One, which premiered a little bit earlier on November 30, 2020.
In the collection you will find a total number of 20 fashionable and stylish items, which will be perfect for any girl or boy. That includes a black cap with an embroidered logo and a brass label, a bandana scarf with a design based on the two versions of the album - Dusk and Dawn, a short beanie with a brass label, a blouson jacket available in two variants made of faux suede and synthetic leather, a chain bracelet made of a high quality surgical steel, a brooch with a charm and chains, a cross bag with a cool splattered paint design, an earrings with the group's logo, a black gloves, a hoodie (either black or white), a leather jacket, two different long sleeve T-shirts made of Cotton, and a chain for your face mask. The other pieces of KPop fashion are a mini cross bag with a brass panel, three scrunchies in a set (all in different colors), two styles of a shirt with buttons, three different sweaters, a sweatpants which will be perfect for anyone who likes to wear something casual, and finally two Cotton fleece sweatshirts. This collection of items will be ideal or any KPop fan.
Treasure are known for the KPop fashion they include in almost all of their official merchandise collections. For instance they prepared eight different pieces of apparel and accessories as part of their welcoming selection of memorabilia after the debut.
The KPop fashion collection released alongside their first extended play titled The First Step: Chapter One was composed of very colorful and useful items such as reusable tumblers, notebooks and stickers. The pieces of apparel you could get and add to your wardrobe were a cross bag made of Polyester available in three different colors - green, yellow and purple, a smaller bag with a white strap also available in three variants - pink, black and yellow, 6 different ball caps from Rinse And Co - mint, blue, yellow, purple, pink and orange, 2 styles of T-shirt (3 in each style) offered in two sizes - M and L, 6 pullover hoodies, each in different bright colors - pink, olive, purple, yellow, blue and mint.
The Treasure collection included two pieces of a jewelry, which will definitely help to create your own style when wearing a KPop fashion. The first one is a pendant necklace with a padlock motif. The second one is a matching bracelet. It features a circle pendant with a phrase "Treasure is everywhere". Both are very elegant so you can give it as a present.
A very interesting example of a KPop fashion collection is what SuperM delivered for their American fans. After the premiere of their debut extended play, the members opened a special pop-up store in two cities - Seoul and Los Angeles. The second location was at 7080 Hollywood Boulevard and operated between October 6 and 13, 2019. The collection available at the store was composed mostly of KPop fashion.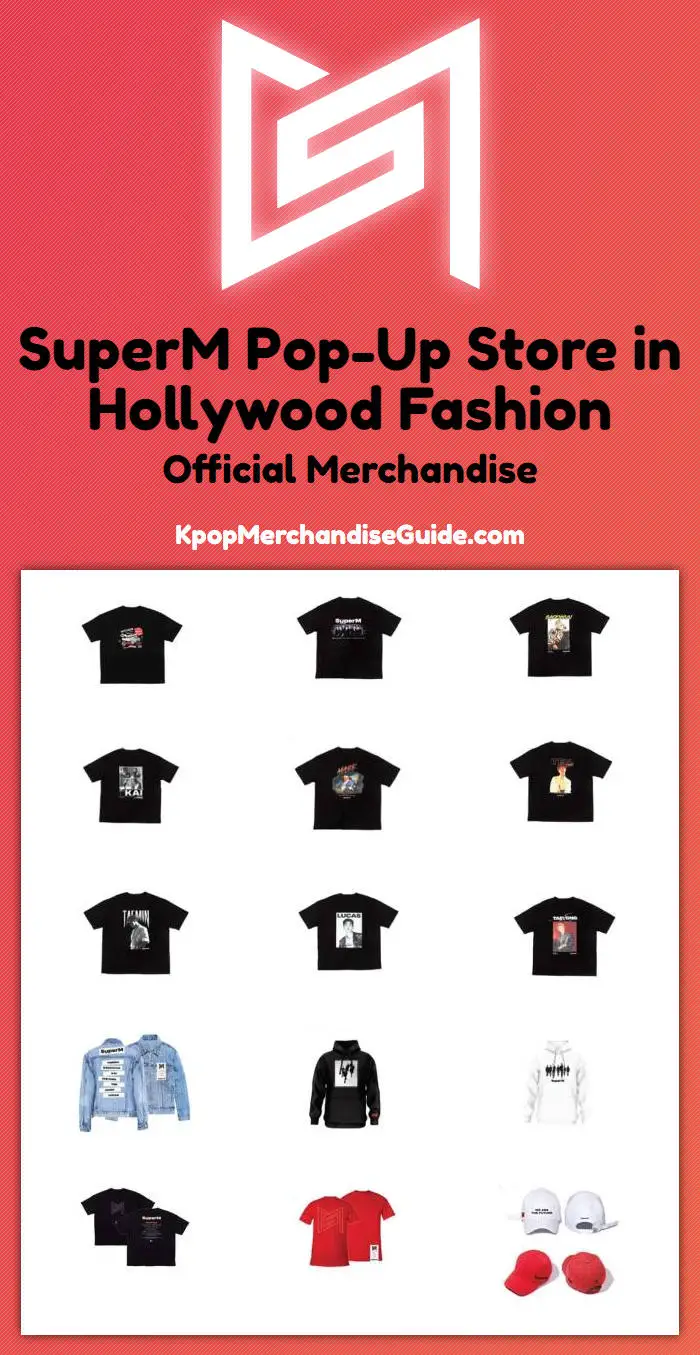 If you were lucky enough to visit the store you could make yourself a pleasant gift by purchasing high quality outfits. That included a black logo AR T-shirt, a black T-shirt with a photo of all members of SuperM, an individual T-shirt featuring a picture of a chosen member on the front, a blue denim jacket with some interesting white accents, a black hoodie with a big front pocket and a matching drawstrings, a similar yet white hoodie, a black T-shirt featuring the logo of the group, a red short sleeve T-shirt, a stylish mini pouch, and finally two types of a ball cap - red or white.
In 2019 Twice prepared a special selection of merchandise for their finale concerts of the Twicelights World Tour that began almost a year ago. The concerts were scheduled for March of 2020 but never happened. The selection of merchandise named Twice University Fashion Club included several pieces of KPop fashion were not available onsite but released online instead.
Some of the fashion items were personally designed by the members. The collection included a sweatpants created by Nayeon available in two colors - white and black, a face mask - either black or white - with an illustration prepared by Momo, a cardigan made of wool designed by Sana and available in either coral or mint, a canvas bag with a white shoulder strap designed by Jihyo measuring 400 x 315 x 130 mm, and finally a newsboy cap featuring words "With You" by Tzuyu.
The last two pieces of KPop fashion where a white Cotton T-shirt with a logo of the concerts, and a stadium jumper made of wool and Polyester, showcasing a caption "Twice Univ.".