Chungha Official Light Stick Byulrangbong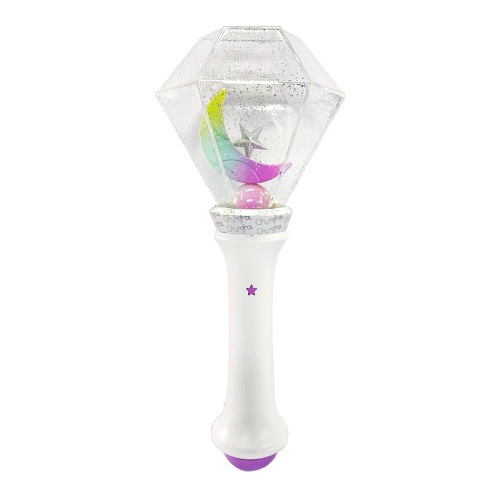 | | |
| --- | --- |
| Release Date | 13 November 2019 |
| Price | $57.88-$104.39 |
| Width | Depth | Height |
| --- | --- | --- |
| 100mm | 80mm | 280mm |
| | |
| --- | --- |
| Operating Time | 4 Hours |
| Power | AAA Alkaline Batteries 3EA |
| Material | ABS, PC |
| Content | Light Stick, Strap, User Guide |
Available From Ebay ▼
Check It Out
Or Amazon ▼
Check It Out
Or Yesasia ▼
Check It Out
The design of the official Chungha light stick was revealed on April 25, 2019. The fans had to wait though for it to be released till November 13, 2019 when it showed up on various online KPop stores. It is of course the official collectible from MNH Entertainment. The light stick was named after the official fandom of the artist called Byulharang. On October 21, 2019 it was announced that its official name will be Byulrangbong.
The Chungha light stick has a transparent head in a shape of diamond with a crescent moon and star familiar from her logo inside it. The name of the soloist is written all over the top part of the handle. The handle itself is white and you can spot on it a purple button shaped like a star. The light stick can produce a white light and can work in three modes - On, Blink and Flicker. It needs three alkaline AAA batteries to operate and can work for approximately 48 to 72 hours. The batteries are hidden in a special black compartment in the handle. You can access it by unscrewing the purple part at the bottom. The Chungha light stick lacks of Bluetooth so it's impossible to connect it to your smartphone. It also probably won't be able to function in a Central Control Mode at the concert unlike many other fanlights.
The dimensions of the Chungha light stick are 100 x 80 x 240 mm and its weight is 130 g. It is made of ABS and PC. In the package you will also find a strap and a user guide. Batteries are not included. The outer hexagonal box featuring purple and green tones is also very beautiful. The size of the box is 115 x 115 x 280 mm.
This is not the first time when a Chungha light stick was released. On February 3, 2018 during Chung Ha'ppy Birthday Party & Fanmeeting the fans had a chance to get a special selection of merchandise. Among the items a penlight featuring the logo of the artist was available in a set with three silicone bracelets. All came in a transparent plastic pouch with a moon logo on it. The same set was later present at the third album Blooming Bloom showcase that was held on July 18, 2018 and at the Byulharang Chungharang 2019 Fan Meeting that took place on March 2, 2019 at Yes 24 Live Hall in Seoul. Other interesting items you could acquire were for example a slogan towel, a set of L-Holders, a strap keyring, a stationery set, a set of 30 postcards, a hoodies, T-shirts, photo card collect book and even a diffuser.
Available From Ebay ▼
Check It Out
Or Amazon ▼
Check It Out