BTS Vinyl Records
There are several BTS vinyl records to choose from if you're looking for a nice present for a person who is a big fan of the group. If the person you're making the gift for is tired of a traditional music formats such as CDs or digital downloads, a vinyl is a perfect solution.
You will find a substantial amount of BTS vinyls of the group's albums released since 2017. You will have to think about if you prefer the official releases, since some unofficial are also available.
The first example of an LP record is the unofficial release of Love Yourself: Her. It is the fifth extended play of BTS which had its premiere on September 18, 2017. It consists of nine songs including the title track DNA, and is the first installment into the Love Yourself series of albums.
The BTS vinyl came out in 2019 unofficially and is a traditionally sized 12 inch double sided record you are probably familiar with. On the first side you will find four tracks - Intro: Serendipity, DNA, Best of Me, and Dimple, while the second features five tracks - Pied Piper, Skit: Billboard Music Awards Speech, Mic Drop, Go Go, and Outro: Her. Inside the package you will also find a double sided poster.
Love Yourself: Her was eventually followed by Love Yourself: Tear released on May 18, 2018 by Big Hit entertainment. On the CD you will find 11 tracks with Fake Love serving as the lead single.
The unofficially released BTS vinyl record came out - similarly to its predecessor in 2019. It has a black cover and features all 11 songs on both sides. There are 6 tracks on A side - Intro: Singularity, Fake Love, The Truth Untold (with Steve Aoki), 134340, Paradise and Love Maze, and 5 on the other - Magic Shop, Airplane Pt. 2, Anpanman, So What and Outro: Tear. This BTS vinyl comes with a 11 x 11 inch full color insert.
The next unofficial LP record is Map of the Soul: Persona. The 6th mini album of BTS came out on April 12, 2019 under Big Hit Entertainment and consists of 7 songs including the main track Boy With Luv. The album is the first of Map of the Soul series.
The 12 inch BTS vinyl is similar to the previous two and showcases the tracks on both sides - A: Intro: Persona, Boy With Luv, Microcosmos, and Make it Right; B: Home, Jamais Vu, and Dionysus. The vinyl also consists of a square insert in full color sized 11 x 11 inch.
Although these unofficial BTS vinyl records are hard to find nowadays you can try to find them from a third-party sellers if you don't mind they are not officially licensed. On the other hand if you're looking for something official and you want to add a genuine item to your collection, you will definitely find something for you.
On February 21, 2020, the second part of the group's newest album series was released. It was the fourth Korean language studio album of BTS titled Map of the Soul: 7. On the CD you will find 20 songs including the single ON.
It was the first time when an official BTS vinyl record was released. The 45 RPM record is smaller than a traditional one and measures 7 inch in diameter. The item can be a great addition to your collection of physical media. It features only a single song - the title ON. This limited edition release was available only for a short period of time, and was officially released on June 26, 2020. The BTS vinyl is double sided and features the regular version of ON on side A, and a remix version showcasing the vocals of an Australian singer and songwriter Sia on side B.
This is an official product from Big Hit Entertainment, printed in USA, and distributed by The Orchard.
Additionally, if you're lucky enough, you can also find the unofficial BTS vinyl of the album. It is composed of two clear blue marbled (but other colors are also available) disks with 10 tracks on each of them (5 on each side). Unlike the 7 inch vinyl, this one is not a genuine product and you can consider it as a bootleg.
The second official BTS vinyl came out in conjunction with the release of the group's single titled Dynamite, which was later included in the fifth full-length album Be. Pre-orders were opened before the official premiere date, and the item sold out only an hour after it became available. The limited edition vinyl came out as one-sided disk on August 21, 2020 and was available only for the US based customers. Your purchase was limited only to four copies per order. The second batch which was released soon after was also immediately sold out. The BTS vinyl - similarly to its predecessor - is also a 7 inch single. The disk features only Dynamite - no other songs are included.
The record was accompanied by a limited edition cassette tape. To promote Dynamite also a special selection of four pieces of apparel was released. That included two T-shirts (white and black), a black ball cap with the logo of the single on the front, and a black canvas bag.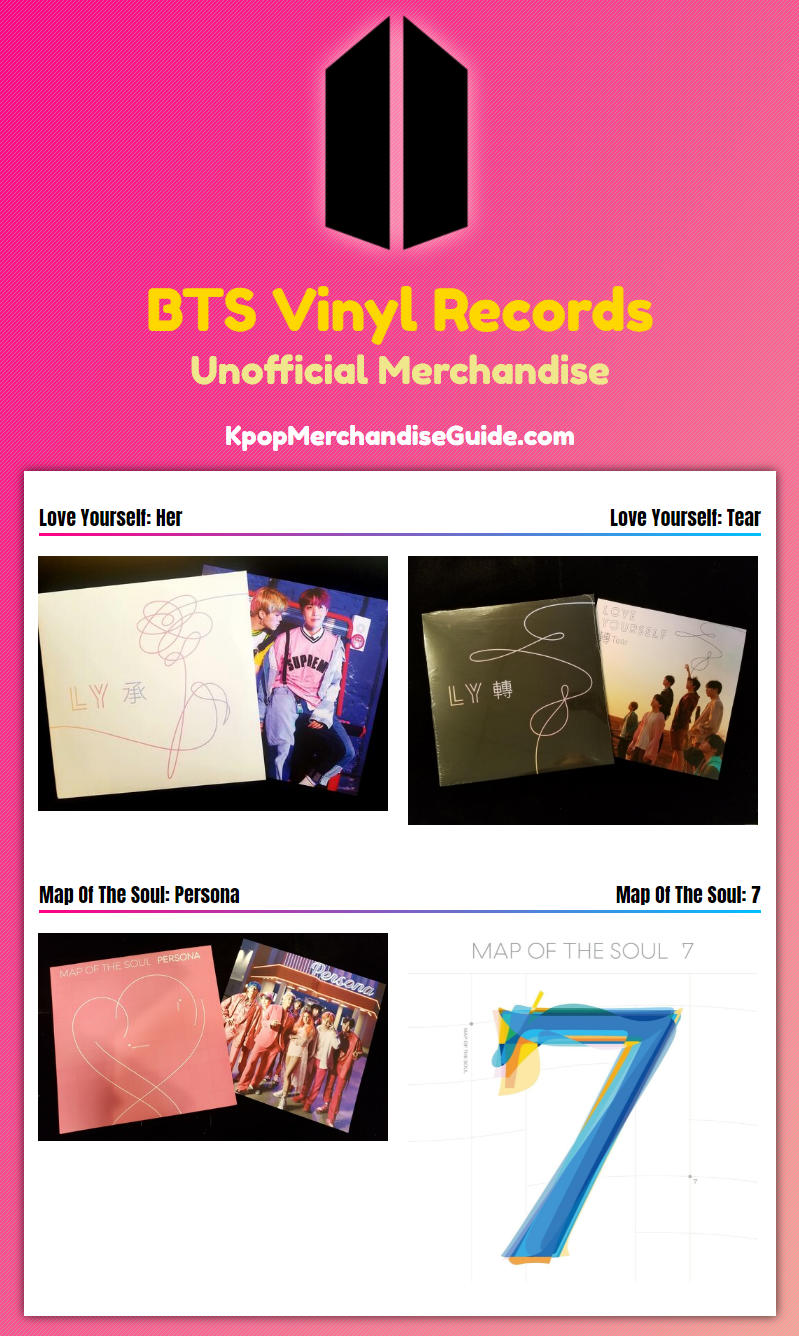 This is the official product from Big Hit Entertainment distributed by The Orchard, and it has a special sticker of authenticity on the back.
A similar BTS vinyl was released for the group's song Life Goes On, which came out on November 20, 2020 under Big Hit Entertainment and Columbia Records. It is the main track of the album Be which was released the same day.
Similarly to Dynamite, Life Goes On was released on both vinyl record and a cassette tape. The disk is 7 inches, one-sided and 45 RPM release, on which you will find only the lead single.
Alongside the BTS vinyl a collection of merchandise promoting the album Be was prepared for the fans. Among the items you could find 7 different fabric posters, a photocard binder, a set of 4 notes, a set of 7 pencils, four different masking tape rolls in a set, a card wallet, a gray eco bag, a white long sleeve T-shirt, a black umbrella, a pajamas, a scent candle, a lyric key ring, a set of three pin badges, and a black muffler.
The Life Goes On BTS vinyl is the official product from Big Hit, printed in USA, and distributed by Big Hit Three Sixty and The Orchard.
The latest BTS vinyl record was released for the song titled Butter which came out digitally on May 21, 2021. It was released - alongside the cassette tape - on June 18, 2021. On July 9, 2021 another physical format, CD came out. The 7 inches one-sided vinyl features only Butter and premiered as a limited edition release. The pre-orders began on May 10, 2021.
This BTS release was printed - similarly to all the previous official records - in USA. It is a genuine product from Big Hit Music/Hybe distributed by Hybe 360 and The Orchard.