BTS Christmas Collection
If you are preparing for the Winter season and you're looking for some interesting BTS Christmas items, there are plenty of options to choose from. The members officially released several pieces of merchandise including globes, also known as snowballs, Christmas related plush dolls, and other goods inspired by the BT21 cartoon characters. Regardless if you're looking for some ornaments or something to decorate your home with, you will definitely find what you need. Additionally there are a couple of bundles prepared for the fans for Winter, composed of various item you will be proud to have in your collection. They are a very precious pieces of merchandise.
The first Winter package was announced at the end of 2019, and was meant to replace the series of Summer packages which were being released every Summer season. The bundle is a great BTS Christmas gift for anyone who is a big fan of the group.
The pre-orders of the product began on December 27, 2019, and it was officially released on January 29, 2020. The package is composed of some very nice BTS collectibles. The first one is a behind-the-scenes DVD which contains a 90 minutes video material with Korean, English and Chinese subtitles. The region code of the disc is 1, 3, 4, 5 and 6. The second item is a photo book of a size of 210 x 297 mm, containing 204 pages full of beautiful pictures taken during the promotional photo shoot in Helsinki. The next item in this BTS Christmas bundle is a nice photo case with an accordion photocard measuring 995 x 70 mm. The green case features the title of the package and measures 75 x 95 mm.

Additionally you will get a photo set composed of a green elegant envelope (102 x 152 mm) and seven individual member photos, a photo stand with pictures of all members including Jin, J-Hope, Suga, V, RM, Jimin and Jungkook (120 x 150 mm), a bookmark (100 x 65 mm), and finally a single mini photo book chosen randomly out of 7 versions containing 20 pages and measuring 85 x 120 mm. Everything came in a beautiful box of a dimensions of 224 x 311 x 50 mm.
This wonderful piece of BTS Christmas merchandise was released by Big Hit Entertainment and Play Company Corp., and distributed by beNX Co., Ltd. It was manufactured in Korea.
The second package, 2021 Edition, was available for pre-order on January 28, 2021. It was eventually released on February 26, 2021.
This time instead of a box we have a special fabric pouch in a purple color for a package. The size of the pouch is 255 x 338 x 25 mm. The package showcases some BTS related logos and a photo pocket wappen, and comes with a set of seven wappens depicting a drawing of a snowman.

The BTS Christmas package contains a making DVD with a content of a duration of 107 minutes. The content is in NTSC and a widescreen format, and is presented with either Korean, English or Chinese subtitles. It is available for any DVD player with a region code of 1, 3, 4, 5 and 6.
If you're looking for some cool Christmas related collectibles, the package is full of them. Aside from the DVD you will get a 204 pages photo book with some delightful pictures of all 7 members (210 x 297 mm), 7 4x6 photos in a beautiful translucent envelope (102 x 152 mm), a mini photo box measuring 64 x 94 mm with a single message card and an accordion photo stand featuring the members of BTS on both sides, a set of two posters with a group photo on one side and the messages from the members on the other. The size of the posters is 170 x 230 mm.
The other BTS Christmas items included in 2021 package are a single 6-cut film photo selected at random out of seven options featuring one member of the group (97 x 190 mm), and one random photocard added out of seven variants of an almost typical size of 54 x 86 mm.
One additional Christmas item with nice aesthetic was included if you pre-ordered your copy. It was a photo sticker measuring 120 x 170 mm and featuring a group picture of BTS.
The 2021 Winter package was prepared by Big Hit Three Sixty Co., Ltd. and distributed by beNX Co., Ltd.
Another great example of a BTS Christmas goods is a TinyTan plush Winter doll. The TinyTan characters depict the members of BTS as their cartoon alter ego. They were introduced in 2019 as an inspiration for the merchandise offered at the pop-up store House of BTS.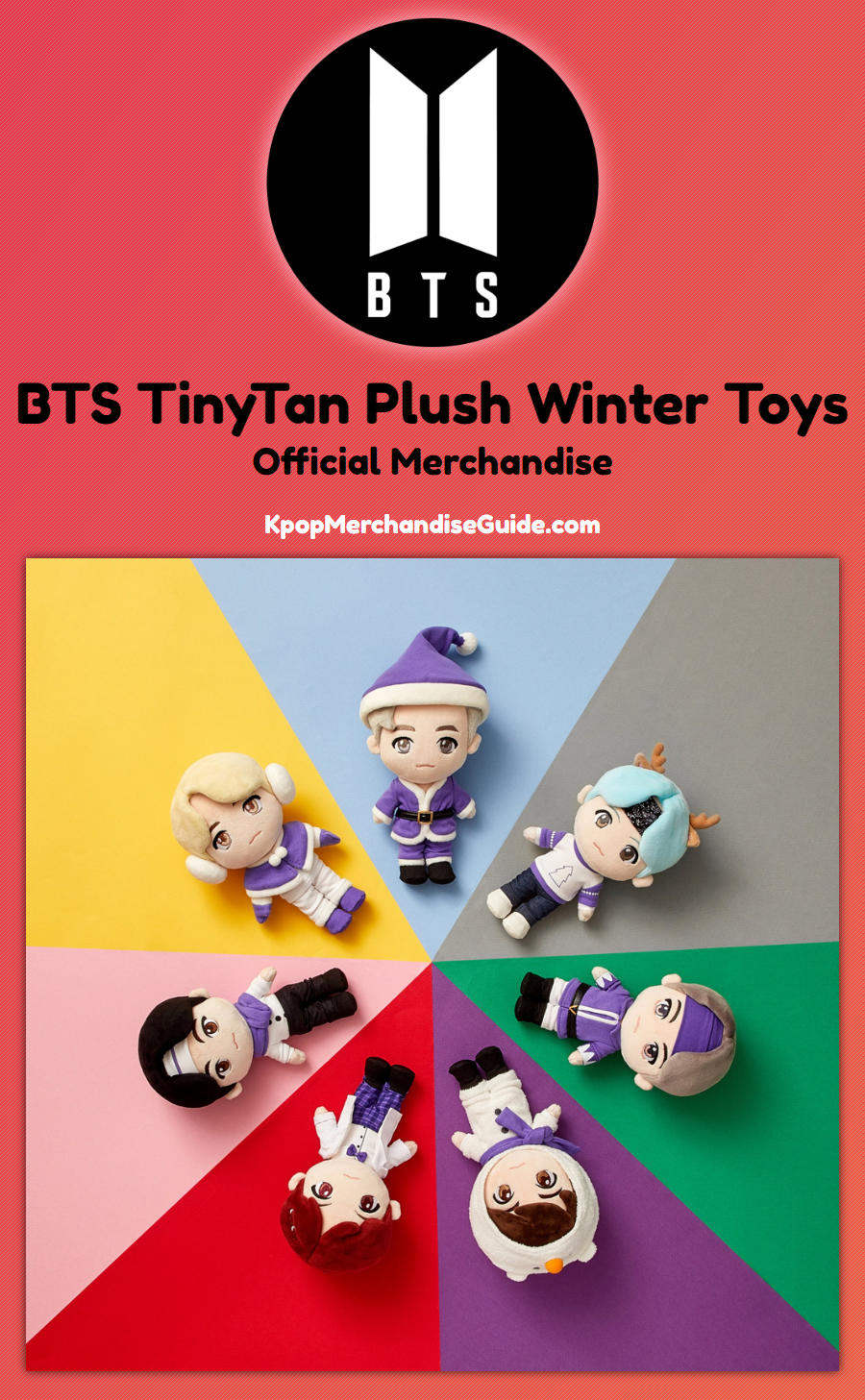 The plush dolls were released for the 2020 Winter season. They are made of Polycarbonate, Epoxy and ABS, and are of a dimensions of 130 x 110 x 230 mm. There are seven different dolls to choose from, each member has his own incarnation. This lovely toy can be a marvelous idea for a BTS Christmas present. Jimin is wearing a purple Winter cape and a white ear mufflers, Jungkook has a full body white Winter suit and a purple scarf, Suga has a reindeer antlers on his head and a white and purple sweater featuring a Christmas tree on the front, V and RM are wearing their purple Santa's costumes, Jin is looking good in his black trousers and white shirt wearing a purple scarf, J-Hope has his elegant white and purple attire.
The BTS Christmas holiday item comes in a nice box showcasing multiple snowflakes and a Winter scenery, with a transparent window of a dimensions of 25.5 x 16.5 x 12 cm. It is a genuine collectible from Big Hit made in China, and distributed by Big Hit IP Co., Ltd.
You can be sure this item will make your BTS Christmas holiday much happier, even during the coldest days.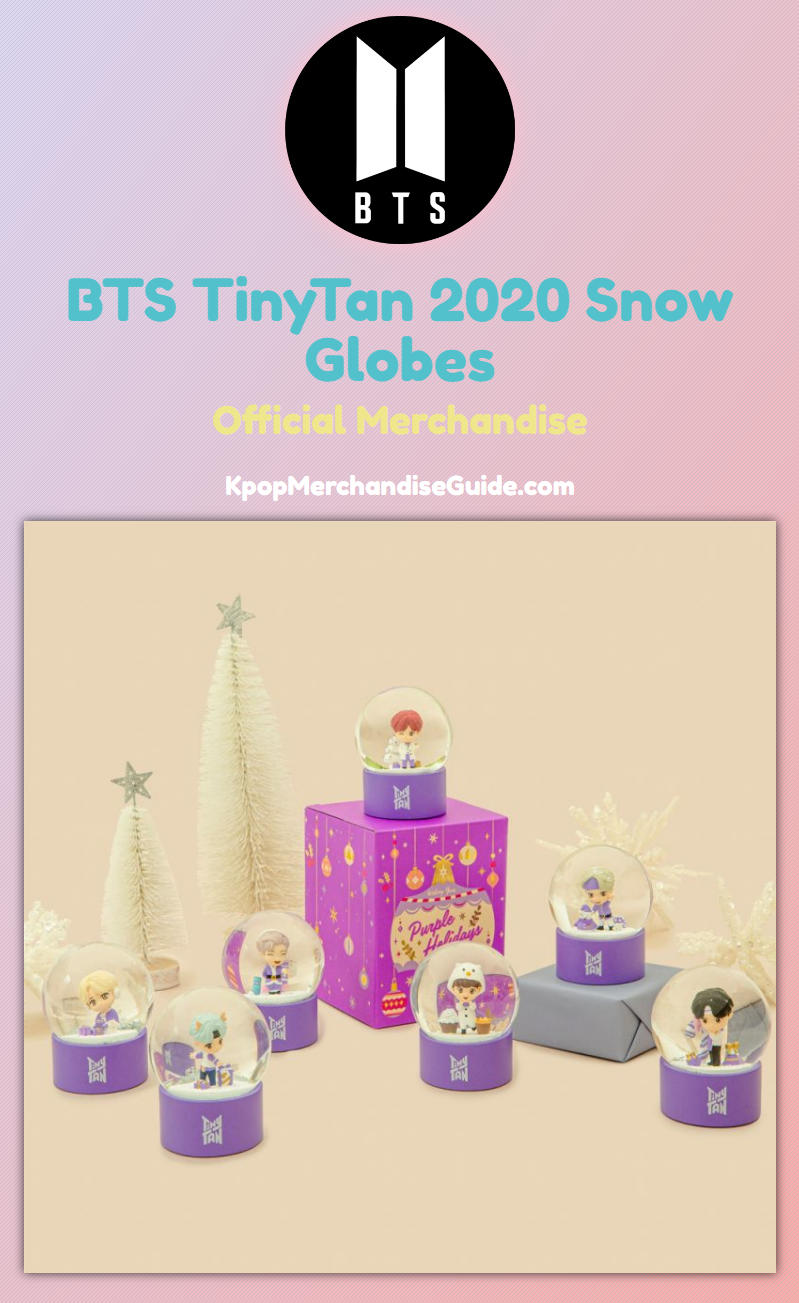 The dolls where released alongside a selection of BTS Christmas snow globes. There are seven variants to choose from, each featuring a TinyTan figure inside the globe. It is composed of a glass globe and a purple stand with the logo of TinyTan cartoon characters. The dimensions of the item are 66 x 55 x 84 mm. It comes in an elegant purple box with the figure showcased on the front.
There is also a substantial amount of BTS Christmas goods related to the BT21 characters line. One of the most interesting is a selection of limited edition plush toys which came out for the 2020 Christmas season.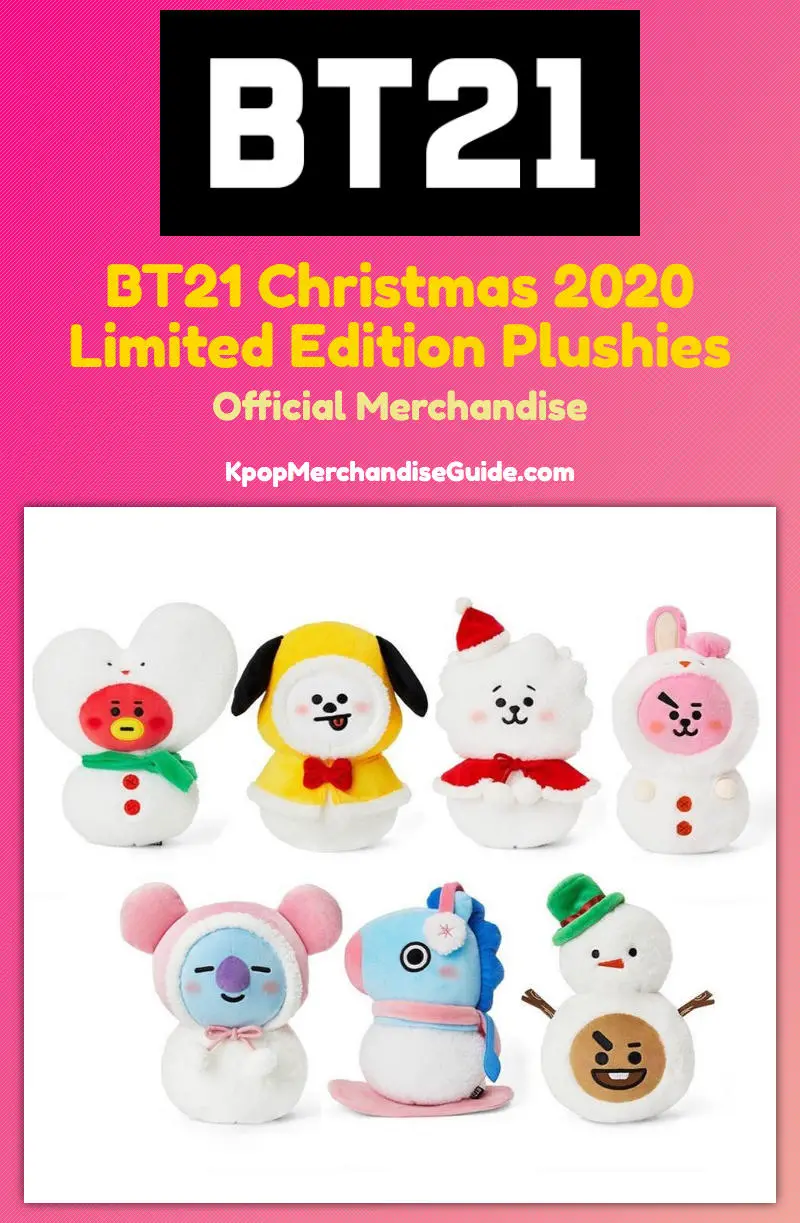 The collection consists of seven plush toys cosplaying as a snowman. Tata and Cooky are dressed in a whole body suit, while on Koya's head you can spot a pink hat, Mang is wearing a white earmuffs and a pink scarf, RJ and Chimmy are wearing a nice capes - red and yellow respectively.
This cute BTS Christmas item weights around 360 g and measures 190 x 220 x 110 mm. It is a genuine product from Big Hit Entertainment and Line Friends Corp.