WayV Official Light Stick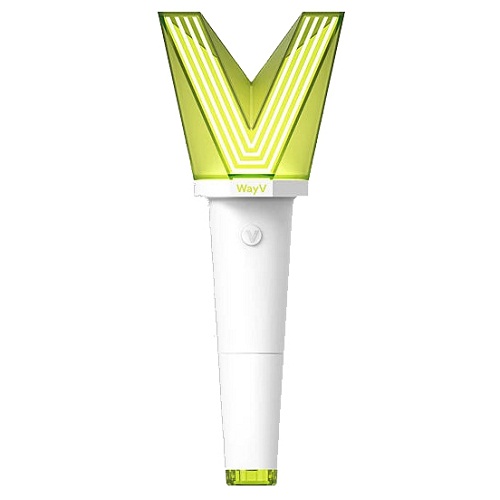 | | |
| --- | --- |
| Release Date | 30 October 2019 |
| Price | $72.30-$72.99 |
| Width | Depth | Height |
| --- | --- | --- |
| 92.3mm | 61.8mm | 232.8mm |
| | |
| --- | --- |
| Operating Time | 6 Hours |
| Power | AAA Alkaline Batteries 3EA |
| Material | ABS, PC, Silicon |
| Content | Light Stick, Dust Bag, Strap, User Manual, Warranty And Certification Card |
Available From Ebay ▼
Check It Out
Or Amazon ▼
Check It Out
The official WayV light stick was revealed on September 27, 2019. The same day the pre-order began - you could order it from the global website of Yes24. The China-based group is the first sub-unit of NCT to receive their first light stick. The item was released the next month on October 30, 2019. This is of course an official collectible from SM Entertainment. It was manufactured in South Korea by Dreamus Company.
The WayV light stick's look is very similar to the fanlight of NCT. It has a light green head and a white handle, although the head is shaped as a letter "V" with some white details on front and on back. You definitely can notice some similarities between these two. On the white ring under the head you will spot a name of the group written in both Korean and Chinese. On the handle you will find a silicon cap that you can remove so the WayV light stick can be decorate with some exclusive accessories. The item comes with a standard strap that's already attached to it.

The fanlight of WayV can produce the light in the same color as NCT's one, which is green. It can operate in four different modes including All Lighting, Slow Blinking, Quick Blinking and Dimming. It is powered by 3 AAA alkaline batteries and can work for about 6 hours. It can operate in a special concert mode and can be controlled via central control at the venue. All you have to do is to enable a Bluetooth Mode in your WayV light stick by pressing the power on button for 5 seconds and pairing your seat at the concert using your smartphone and an exclusive application. The normal mode does not work when this mode is enabled.
The dimensions of the WayV light stick are 92.3 x 61.8 x 232.8 mm and its weight is 180 g. It is made of ABS, PC and silicon. In the package you will find the light stick with a light green strap, a user manual and a special warranty card with a serial number of the product that certifies this is the official piece of merchandise from SM Entertainment. Additionally you will find a small sticker of authenticity on the package. A special black pouch for the WayV light stick is also added. The contents come in a typical SM round box similar to those of other artists of the company.
Available From Ebay ▼
Check It Out
Or Amazon ▼
Check It Out