EXO Official Light Stick (Version 3.0)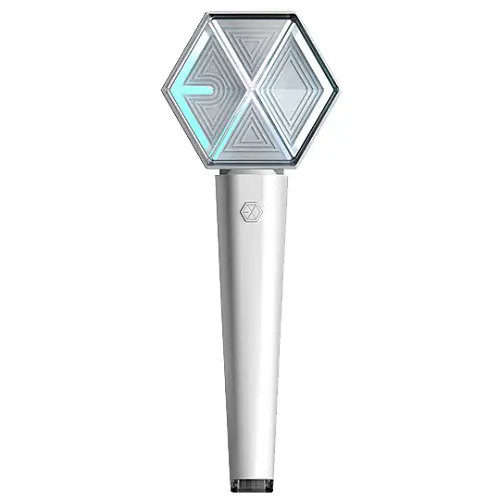 | | |
| --- | --- |
| Release Date | 21 June 2019 |
| Price | $69.99-$72.99 |
| Width | Depth | Height |
| --- | --- | --- |
| 33.6mm | 32.3mm | 116mm |
| | |
| --- | --- |
| Power | AAA Alkaline Batteries 3EA |
| Content | Light Stick, Strap, 1 Extra Silicone Cap, Stickers, User Manual [Pre-order Only: Stickers, Random Photo Card] |
Available From Ebay ▼
Check It Out
Or Amazon ▼
Check It Out
Or Yesasia ▼
Check It Out
The official EXO light stick Version 3.0 was revealed on June 13, 2019 ahead of the group's fifth tour titled EXO Planet #5 - EXplOration. It was available for pre-order for a short period of time and finally released on June 21, 2019. For the first time the third version of the EXO light stick can work with a special battery pack that can be purchased separately. This is of course the official collectible from SM Entertainment and was manufactured in South Korea.
The design is very similar to the previous versions. It has a hexagonal head featuring the logo of EXO and a white handle with a power on button. This time though the logo lines are protruding which makes the word "EXO" more visible and distinguishable. Unlike the previous version this one doesn't come with an extra silver battery cover which you can use instead of the regular white one. On the back of the version 3.0 of EXO light stick you will find a small silicon cap (you will find one additional cap inside the package) which you can remove to decorate your item with some special accessories that were released by SM Entertainment on February 17, 2020. You could get four different accessories including a small EXO logo, two logos of the seventh studio album of the group titled Obsession, and finally two blue planets logo. On the handle you will find an already attached rubber hand strap with a small button featuring the logo of the KPop group. It's worth mentioning that the both previous versions came with a typical fabric strap.
The light stick is equipped with address LED which allows it to produce various glowing effects and animations. The product can glow in white color and can work in four different modes including Lighting, Quick Blink, Animation and Gradation. It needs 3 AAA alkaline batteries to operate but you can replace the battery container with a special battery pack which is rechargeable. It's a very convenient solution - you don't have to buy new and replace the batteries every time you want to use the EXO light stick.
The battery pack for the Version 3.0 looks like the bottom part of the handle. It is equipped with a Micro 5pin USB connector so you can connect it to a power source via a normal USB cable. It is a Li-ion battery type of a capacity of 2,600 mAh. The item comes with a cover showcasing the logo of EXO and weights around 85 g. The dimensions of the product 33.6 x 32.3 x 116 mm. It comes with a user manual. The official model number is SME-EXO-BA03. It was listed as part of the official merchandise prepared for the EXplOration concerts in Seoul and was priced at KRW 18,000.

You can connect the Version 3.0 to your smartphone using Bluetooth. This will allow to pair it with your seat number at the chosen concert of EXO so it could be manipulated through a central control mode. That way a special light effects can be achieved during the performances. To pair the EXO light stick (Version 3.0) with a particular seat you need to download and install an app called Wyth. You can download it either from Google Play or App Store depending on the device you're using. Next you have to log in with your SMTOWN account (you can create new one within Wyth app if you don't have it). Then all you have to do is to choose a particular concert from a list and pair your light stick with your seat (also level, zone and row if needed). Press and hold the power on button on the fanlight for 5 seconds. You will notice it glowing in blue. That's it.
The third version of the official EXO light stick measures 101.1 x 57.5 x 276 mm and weights around 180 g. It comes in a white cardboard box which is not as interesting as the both previous more sturdy and elegant packages. This is one of two light sticks (the other belongs to Super Junior) that doesn't come in a round tube box.
Alongside the item in the package you will also find one sheet of 2 stickers (one logo plus one name sticker) and a user manual. It's worth mentioning that no warrantee card is included. If you pre-ordered your EXO light stick you were entitled to receive a sheet of stickers and a special photo card. The stickers consisted of eight single member stickers, two EXO logos, two name of the group stickers and eight stickers featuring names of all members including Suho, Chanyeol, D.O., Sehun, Kai, Baekhyun, Chen and Xiumin. The photo card was added randomly out of 8 versions with the photos matching those on the sticker sheet. Lay was busy with his solo activities so he is not available here as an option. And of course he did not participate in the EXO Planet #5 - EXplOration tour for which the Version 3.0 of the light stick was prepared.
On September 30, 2019 a special pouch for the fanlight was released. It was manufactured in China and distributed by Sun Entertainment Co., Ltd. The pouch will hold the third version of EXO light stick (it was not designed for the previous versions) and a battery pack if you have it. A special bands hold it in place and a sturdy material can easily absorb impacts. It is opened and closed by a zipper and have a comfortable handle. The dimensions of the item are 130 x 310 x 80 mm and it is made of PU, EVA and polyester. It also comes with an adjustable shoulder strap of a size of 1000 x 30 mm. In the package you will also find a strap keyring (18 x 30 mm) with a phrase "We Are One", three sheets of hologram stickers (100 x 135 mm) and one group photo card (86 x 54 mm). The light stick pouch weights 260 g.
Available From Ebay ▼
Check It Out
Or Amazon ▼
Check It Out