Viviz Albums
There are currently only 2 Viviz albums released. They are extended plays titled Beam Of Prism and Summer Vibe. Their debut record had its premiere in February of 2022 under BPM Entertainment.
Here's the list of all records of Viviz in order.
Beam Of Prism Mini Album
The group released their first extended play titled Beam Of Prism on February 9, 2022 under BPM Entertainment (Big Planet Made). It was manufactured by Arana and distributed by Kakao Entertainment Corp. It is composed of 7 songs including the intro, Bop Bop!, Fiesta, Tweet Tweet, Lemonade, Love You Like and Mirror. Bop Bop! serves as a lead single for which a music video was released. It was composed by Lim Sooho, Woong Kim and Anna Timgren. Umji participated in the creating process by co-writing the lyrics (alongside Lee Seuran) for Love You Like.
The first of Viviz albums peaked at number 2 on the Gaon Weekly chart, and reached number 42 on the Japanese Oricon chart. It sold 50,000 copies in February of 2022 becoming the 8th best-selling release of the month, and the 3rd most popular album of any KPop girl group after Ad Mare of MMIXX and STAYC's Young-Luv.com.
The physical edition of Beam Of Prism comes in 2 different variants - To (pink cover) and Stand (white cover). Both measure 220 x 280 mm and have a holographic details on the covers, composed into the pictures of all members of Viviz. They are of a rectangular photobook format.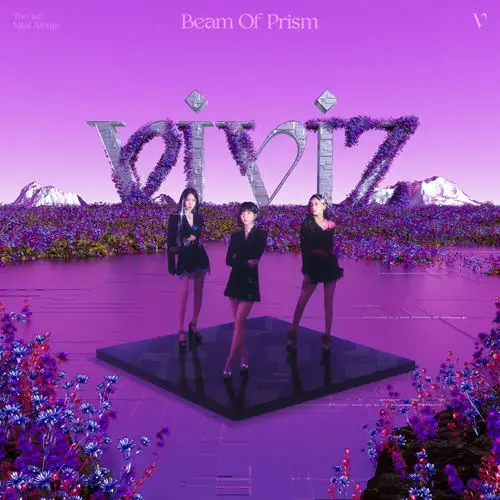 Inside the package you can find several interesting pieces of goods including the CD disk containing the music in a separate envelope with the group's logo on it, the photobook itself featuring some beautiful photos on 56 pages, taken during the promotional photoshoot, 3 standard photo cards selected randomly out of 12 variants (4 per each member), 2 random group photo cards included from a lot of 6 options, a lenticular card showcasing a single member added out of 3 variants, a single postcard included out of 2 options of a size of 100 x 150 mm, and finally a folded poster, also selected out of 2 different sheets of a dimensions of 470 x 330 mm. All of the merchandise are the same in both versions of the EP except the photobooks.
A very rare special group card was also included in the package in a limited number of first-press copies of this Viviz album. If you want to complete the whole collection you need to gather 22 different photo cards. There are of a typical size you can find in the majority currently released albums - 55 x 85 mm.
Summer Vibe Mini Album
The second extended play of Viviz titled Summer Vibe premiered on July 6, 2022 under BPM. It is composed of 6 songs including Loveade, Siesta, Party Pop, Love Love Love, #Flashback and Dance. The title track Loveade was composed and arranged by Deez and Saay.
To support the release of the mini album a special showcase was held on the same day as the premiere.
The EP reached number 8 on the Gaon weekly chart and peaked at the 45th position on the Oricon chart.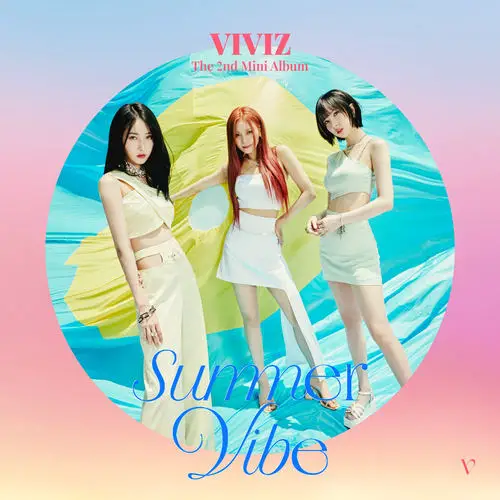 Physically, Summer Vibe is available in 2 regular versions including Flying Point (blue cover) and Ready To Summer (pink cover), and 3 jewel case variants, each related to the members Eunha, SinB and Umji.
The normal edition is composed of a CD disk containing the 6 songs, a 64 pages photobook, an envelope of a dimensions of 125 x 175 mm, 2 random photo cards (1 member card selected out of 30 variants plus 1 group sheet chosen out of 8 options), a paper mobile included at random out of 4 options, and a heart-shaped message card chosen out of 6 variants (2 per each member of Viviz).
Additionally you could get an extremely rare Polaroid photo which was limited to only 50 pieces.
There are 2 group posters issued for this edition. Both measure 600 x 420 mm.
The jewel case version of the album consists of a CD disk, a 16 pages booklet with a picture of a chosen member on the front cover, 1 member photo card selected out of 15 unique sheets, 1 group photo card included at random out of 5 variants, and 1 sheet of stickers measuring 100 x 100 mm.
This time there are 3 different posters you can get. Each of them depicts a single member and measures 420 x 600 mm.