Pentagon Official Light Stick Uni Bong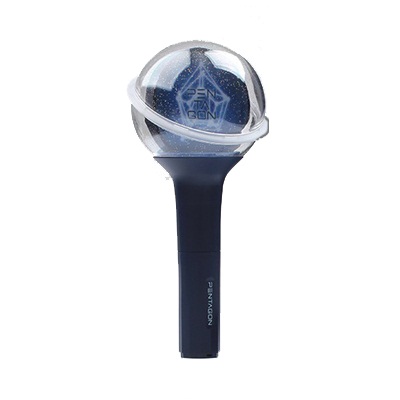 | | |
| --- | --- |
| Release Date | 23 November 2017 |
| Price | $69.96-$75.89 |
| Width | Depth | Height |
| --- | --- | --- |
| 110mm | 100mm | 236mm |
| | |
| --- | --- |
| Operating Time | 6 Hours |
| Power | AAA Alkaline Batteries 3EA |
| Content | Light Stick, Strap |
Available From Ebay ▼
Check It Out
Or Amazon ▼
Check It Out
Or Yesasia ▼
Check It Out
Ahead of the comeback with DEMO_02 the Pentagon official light stick called Uni Bong was revealed in November 2017. At the same time the group announced the new, second version of the slogan and an official color called "Uninavy" (Pantone 282 C). The name of the color is related to the name of their fandom UNIVERSE. The light stick was released at the Mini Concert Tentastic Vol.4 on November 23, 2017. It is a certified product from Cube Entertainment and was manufactured by 101 Experience.
The Pentagon light stick is composed of a Uninavy handle and a transparent globe that looks like a Saturn with a group's logo inside.
It is powered by three 3A alkaline batteries which allow it to work for a minimum operating time of 6 hours. It can work in three standard modes including on, blink and flicker.
The size of the light stick is 110 x 100 x 236 mm. It comes with a white strap and a user manual. A special pouch for the light stick was released as a part of merchandise collection available at the 1st Unibirthday Pentagon's Private Class fan meeting. The dimensions of the pouch are 110 x 110 x 235 mm. It can be a nice addition to your fanlight.
Available From Ebay ▼
Check It Out
Or Amazon ▼
Check It Out